Featured Articles
04/23/2018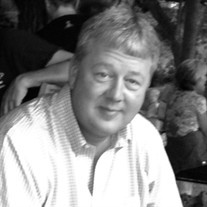 The staff and members of CEAO are deeply saddened by the loss of our friend, past board member, and fellow county engineer, Doug Davis. Our thoughts and prayers are with his family as we say good-bye this week. Doug will be greatly missed and forever in our hearts.
View Obituary and Service Information
---
03/30/2018
The County Commissioners Association of Ohio (CCAO) recently released a County Advisory Bulletin on the new (2017) $5 Permissive License Fee. This bulletin gives a background history of all the $5 permissive license fees and gives guidance on a county's enactment procedure for implementing the new fee.
View Report and Sample Resolution (click on Studies and Reports)
---
03/15/2018
Ohio's County Engineers depend on CEAO to offer valuable continuing education opportunities each year not only for themselves but also for county staff! Don't miss our upcoming Bridge Workers, Supervisors and Engineers Conference and Trade Show, April 11-12, 2018 at the beautiful Deer Creek Lodge and Conference Center.
Our 2018 Land Records Modernization Conference on June 13th is also one you won't want to miss! This one-day conference offers a valuable six credit hours towards surveying licensure. For more information about these upcoming conferences and to register, simply view our Conferences and Events webpage.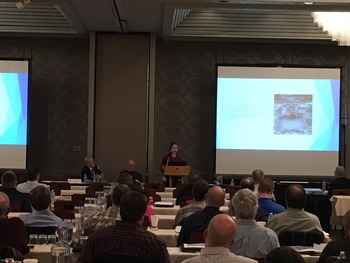 Photo: Kate Radtke, Drainage E.I. with Franklin County Engineer's Office presents during CEAO's 2018 Ohio Storm Water Management and Drainage Conference.
---
01/04/2018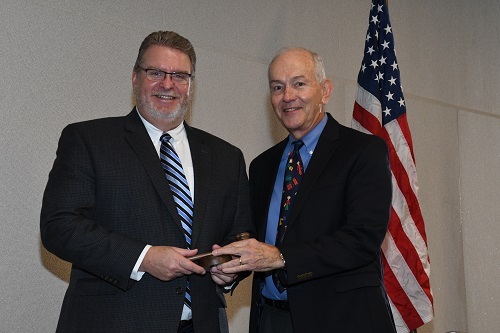 Columbus, Ohio – The County Engineers Association of Ohio (CEAO) presented state recognition awards to Ohio County Engineers and their staff during its annual business meeting December 10-12, 2017.
Theodore B. Hubbard, P.E., P.S. of Hamilton County, Ohio, received the award of 2017 County Engineer of the Year. Karen L. Heinrichs an Administrative Assistant with the Mercer County Engineer's Office received the award of Employee of the Year from CEAO. Victoria Beale with Ohio's Local Technical Assistance Program (LTAP) was presented with the Friend of CEAO award.
Lifetime Membership Awards were given to Dean C. Ringle, P.E., P.S., former Franklin County Engineer, and to Ronald M. Sharrett, P.E., P.S., former Vinton County Engineer, for their many years of service dedicated to CEAO and to preserving highways and bridges in their county transportation systems.
The 2018 CEAO Officers are President Paul W. Gruner, Montgomery County Engineer; 1st Vice President Jeffrey B. Linkous, Clinton County Engineer; 2nd Vice President Jeff Stauch, Union County Engineer; Treasurer James A. Wiechart, Mercer County Engineer; and Immediate Past President Chris E. Bauserman, Delaware County Engineer.
Photo Above: Outgoing President Chris Bauserman, Delaware County Engineer, welcomes new CEAO President Paul Gruner, Montgomery County Engineer.