Complete Story

03/15/2018
Great Continuing Education Opportunities Coming this Spring!
Ohio's County Engineers depend on CEAO to offer valuable continuing education opportunities each year not only for themselves but also for county staff! Don't miss our upcoming Bridge Workers, Supervisors and Engineers Conference and Trade Show, April 11-12, 2018 at the beautiful Deer Creek Lodge and Conference Center.
Our 2018 Land Records Modernization Conference on June 13th is also one you won't want to miss! This one-day conference offers a valuable six credit hours towards surveying licensure. For more information about these upcoming conferences and to register, simply view our Conferences and Events webpage.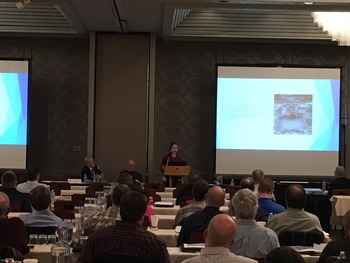 Photo: Kate Radtke, Drainage E.I. with Franklin County Engineer's Office presents during CEAO's 2018 Ohio Storm Water Management and Drainage Conference.