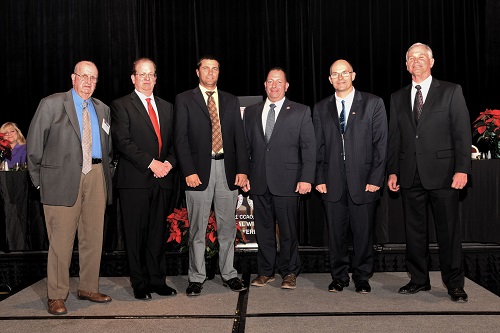 The County Commissioners Association of Ohio and County Engineers Association of Ohio invite you to the 2021 Annual Winter Conference at the Hyatt Regency Columbus, 350 N. High St., Columbus, OH 43215.
Plan to attend the 2021 Annual Winter Conference and join us in building a bridge to Ohio's future.
Click Here for More Information
view all
Latest News
11/23/2021
Just over a year after it closed, a section of Akron-Peninsula Road in the village of Peninsula is reopening.
The village closed the road last November after the eroding east bank of the Cuyahoga River undermined the road's southbound lane. Village officials determined it would be impractical to block off the lane and keep one lane open.
---
11/22/2021
The new $1.2 trillion federal infrastructure law is viewed as a boon to the Dayton region and state, bringing jobs and economic development while helping to fix a range of longstanding infrastructure problems, including the Brent Spence Bridge over the Ohio River in Cincinnati.
---
11/19/2021
Winter is here in Ohio and so are the challenging weather conditions that lead to the deterioration of roads and bridges each year. Ohio's rural roads and bridges serve as the initial link in the agricultural supply chain. Without a system of well-maintained rural roads and bridges, the soybeans and grain Ohio farmers produce will not be efficiently delivered to elevators, processing facilities, and, ultimately, to domestic and international customers. Unfortunately, rural America is an area of the country in which the condition of roads and bridges is the most severe while also being an area of the country in which available resources are the most limited. Additional investment is clearly necessary, but promoting better longevity and stewardship is also required.
---
11/18/2021
CLEVELAND — Expect to see more orange cones around Northeast Ohio soon.
With the federal infrastructure bill signed into law Monday, soon billions of dollars will be poured into road repairs, including $40 billion on bridges.
The work will happen over the next five years, but no one knows just how much money is coming to Cleveland, or exactly soon. But Senator Rob Portman, one of the few Republicans who actively supported the bill, says Ohio will get $483 million to help with bridges and a whopping $9.2 billion for its roadways.
---
11/17/2021
Ohio University's Russ College of Engineering and Technology is collaborating with county engineers from across the state to discuss how the college can support infrastructure research and deployment through the Ohio Research Institute for Transportation and the Environment (ORITE).  
view all news